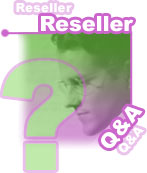 Questions about Hosting Plans?
[read Q&A for Hosting]


Need to find external Resources?
[go to Web Hosting Resources]


Cant find your answer here?
[Contact Support]


Enter a HelpDesk ticket!
[Enter ticket]


Reseller


What is a reseller?

A reseller purchases limited resources on a server which can be either used for personal projects or resold to individual clients.



What can a reseller do?

A reseller can log into a reseller control panel and add, modify, suspend and delete accounts. Individual and overall bandwidth usage and remaining storage space can be displayed. A reseller also has access to each accounts control panel. Limits apply according to the reseller plan in use.



Am I allowed to sell my accounts?

Yes. You can define your own service plans and sell hosting packages for whatever price you feel like.
For accounts you sell You'd have to provide support and a payment solution.

Note: Our support communicates with resellers ONLY, not with clients of resold accounts.



Can I make up my own "Terms of Service"?

Yes, but with limits. You must abide to our Reseller and Hosting Terms of Service. You CANNOT start hosting illegal material or allow features we do not allow. (eg. you cannot decide to allow IRC chat bots, since we do not allow them) A more restrictive Terms of Service than ours should be always acceptable.



Can I customize my reseller account?

Yes. You can upload your own logo which will be seen by you and all site administrators of accounts you sell. You can also set up your own service plans.



Can I upgrade or downgrade my running reseller account?

Yes. You can change your reseller plan any time (FREE of charge) !
Contact sales@web-hosting-today.com to do so.



How much do you charge for traffic overage?

$0.95 for each Gigabyte (1024MB). With UNLIMITED Traffic you don't need to worry about this.



How much is additional storage space?

$1.00 for each Gigabyte (1024MB). Only diskspace use in excess of your overall reseller limit is considered over usage.
Contact sales@web-hosting-today.com to increase your storage space.



Do you backup my data? When?

A complete server backup including your reseller and account settings, MySQL data, webspace data and e-mail data is done to an off-server-location once a week.



What is your connection speed?

Each server, reseller space included, is connected to a 10GB+ backbone with a full-duplex 100-Mbits Ethernet card. Connections are redundant and established by Time Warner, Verio, Cogent, Allegiance, Williams, MFN, Savvis and ELI.

Note: We are not affiliated with the above mentioned backbone providers.


Accounts


Can each account have different settings?

Yes. You can define each account with different limits and features as stated on our reseller plans page.



What happens if one account goes over its limits?

You will be able to see overuse of an individual account in your control panel. We will not charge you as long as you haven't reached your reseller limits as a total.



Can you register domain names for me?

Yes. We charge $15 per domain name for a 1 year cycle.
Contact domains@web-hosting-today.com to order domain names.



Can I use multiple domains per account?

Yes. Your control panel allows you to specify additional domains for each account. (eg. Account A could have domain-1.com, domain-2.com and domain-3.com all point to the same website. In addition you can point these domains to subfolders with a simple mod_rewrite script.



What DNS servers will I use?

You can always use ns1.web-hosting-today.com and ns2.web-hosting-today.com out-of-the-box. A setup of your own DNS servers (eg. ns1.your-domain.net, ns2.your-domain.net) would incur a $25 one-time charge.



Who will provide support for my customers?

It is your responsibility to provide support for your customers. Web Hosting Today will only communicate with resellers, not with administrators of resold accounts.